<< Back to the Tails & Tributes list
Pet Stories: Daisy, Sam, and Karma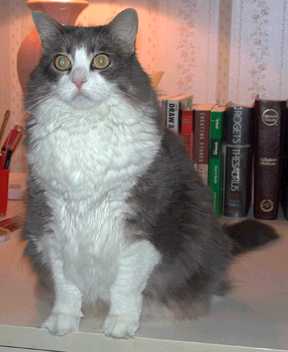 A friend of ours was in town to go grocery shopping and was drawn to the pet food aisle and looked at kitten food, but she thought to herself, "I don't have any kittens." Then on the way home (out in the country) she noticed a plastic bag in the ditch that was moving. She stopped to investigate and saw that there were four very tiny kittens in this bag.
She took them home and told my husband about them. So, I called that evening and asked if her girls would let me have one of the kittens. The next morning I went out to claim one, and the girls (aged 10 and 12) were waiting for me. They took me inside and picked one up and said, "We think you would like this one (!)." So I took her home and named her Daisy.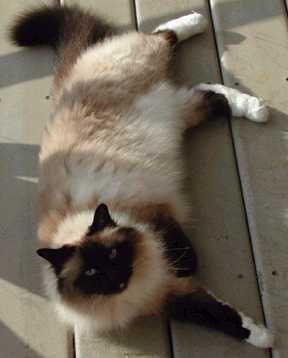 Daisy weighed 20 ounces and seemed barely old enough to eat solid food. I carried her around in the hood of my sweatshirt for a few days. My Birman, Karma, was quite offended at this intrusion, but he finally adapted.
Daisy has been making up for her missed meals ever since (three years) and now weighs more than 17 lbs. She has a beautiful long, silky coat and is very loving. She especially likes to snuggle with my husband, but since he leaves early in the moring she stays close to me until its time for breakfast.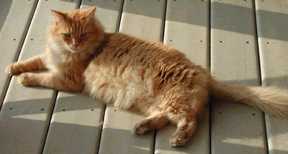 I found Sam by looking at our local shelter's site on the internet.They post pictures of all the animals available. He looked rather thin and uncared for in his photo, but I saw a beautiful cat waiting to emerge. I went to visit him at the shelter and he began purring as soon as I picked him up and put him on my lap. It was love at first sight. I have had him a month now and he has already filled out and his coat is much improved with good quality food. He will sit with me as long as I want to hold him and tries hard to be friendly to the others.
Kindly Contributed By:
- Jane Butler