<< Back to the Tails & Tributes list
A Tribute to our Border Collie Bandit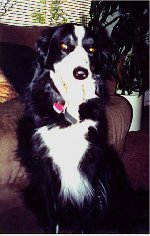 "Bandit"
Feb 1994 ---- Jan 15, 2005
Bandit
Last night we said goodbye to you like every other night.
You were laying on your nice warm bed as your dad turned out the light.
Had he known that sometime after that you would breath your final breath.
He'd have laid right there beside you until the time you left.
You had your share of aches and pains, but you always soldiered through.
Our lives have been that much better just because of you.
And now dear friend we must go on, without you at our side.
The saddest day in all our lives is the day that Bandit died.
We will always love you Bubba.
Mommy, Daddy, Sara and Shane
January 16, 2005