<< Back to the Tails & Tributes list
Pet Stories: Buttons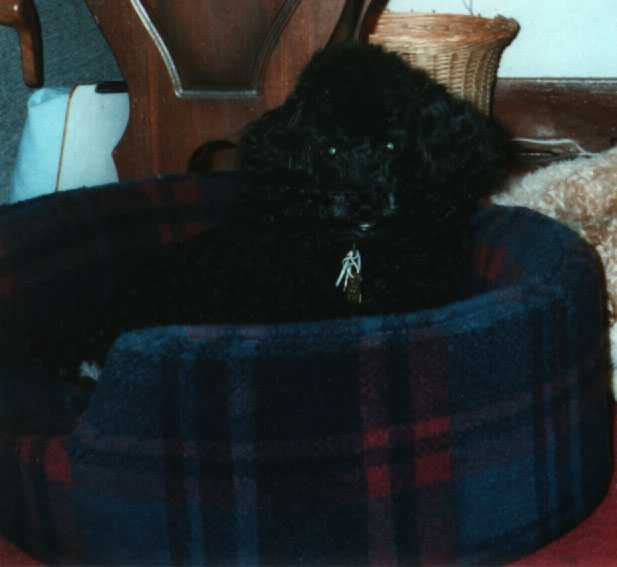 I haven't written much lately, but wanted to announce an upcoming event of great importance:
Buttons the Rescue Boy will be 3 years old on Sunday. Here's why I want to honor this occasion.
Buttons came to us through Mass. Poodle Rescue in March, just after we had lost our two dear old boys Scruffy and Billy. Buttons was a wretched creature, a small mini dumped at a local shelter with six months of matted fur and infused with a terror of all creatures animate and inanimate, especially feet and newspapers ...
This came after his early weeks in a Midwestern puppy mill, transport at 8 weeks old to Massachusetts, four months in a pet store where he ended up on sale at half-price, and then almost two years in the "home" from which he was given up without even a collar to call his own. He was so afraid of his owners that, when they opened their car door at the shelter, he flew out and hid for a day in a wooded area behind the shelter. He refused to leave the crate in which the shelter put him when they finally caught him.
When he heard his original name he quivered, rolled over, and peed. And he was so thin that his bones showed through and his frightened eyes peered out of a haggard face. His coat had to be almost shaved to the skin so that it was only thin, brittle black fuzz. He had not been neutered and supposedly was not housebroken. His back legs were pencil-thin and creaky.
In short, he was a mess, and many people doubted that he could be "rehabilitated" (as if he had been the one at fault here). We decided to take the chance. The little guy captured me with his eyes. Of all poodles I have known, I've never met one with such eyes - huge, deep, black, watching everything around him constantly, and oh so sad and scared. But in there with all of the sadness and fear there was a tiny bit of hope, as if he was thinking, maybe THIS human would be different. Why he would trust anyone at that point was beyond me, but he did. He happily sat on my lap in his foster home and munched on his favorite food at the time, processed cheese. Half an hour later, we were on our way home together. Since he didn't even have a collar of his own, I put on a spare belonging to his new friend-to-be Callie and away we went.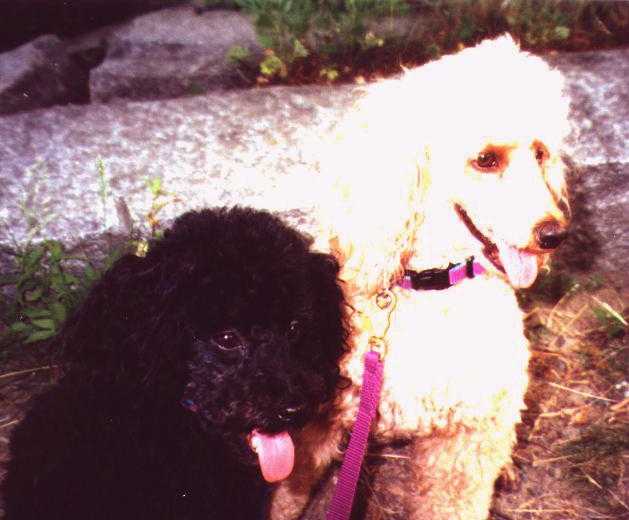 Today Buttons is a feisty little fellow with thick black fur and beautiful soft black eyes (Only occasionally does the old worried look reappear now - what we call his "angst face"). He was reliably housebroken within only a few days, following first on the lead of the dogs in his foster home and then that of his instantly-adored new friend here, Callie Regina.
He has become an affectionate little companion who adores his two-mile daily walks and dances in ecstasy on the former pencil legs when he sees a treat coming. A few weeks ago Buttons graduated from a basic obedience class. He now allows people to pet him and has learned the meaning of "kiss" as a greeting instead of "flip and pee." We had many tough times at first, and probably will have more, but he is a treasure.
An early Happy Birthday, little buddy, and many more.
Kindly Contributed By:
- Gerry Azzata, gerrya@tiac.net