<< Back to the Tails & Tributes list
Pet Stories: The Miracle We Named Diesle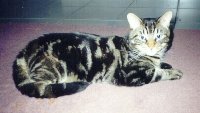 I live in a house with my grandparent, parents and brother so sometimes I just want something that could only be mine (I was 8 at the time). My dad brought me a kitten off the street and as he said we had to "put it out of its misery." We had tried to help it for a year but she just got worse and worse it was the only fair thing to do. At the vet's office I cried and cried.
My mom was worried that i wouldn't be able to deal with the pain so right after the cat was put down, my mom brought me to the humane society. She told me I could pick any cat I wanted.
I looked in the cages and saw a kitten just lying there so I asked if I could hold her. It was love at first sight. I decided I wanted her and her name was going to be Tiger. She was just adorable, the only problem was that me and my brother fought for everything.
Worried that we might harm her, my mom went back to the humane society and adopted another kitten. This one was supposed to be for my brother. As my mom recently told me, the people told her not to get him - he was horrible with people and very grumpy. My mom picked him up anyways, and he started purring. The lady was surprised and shocked. I guess it was just destiny!
My dad named him DIESLE because he purred really loud and sounded like a diesle engine.
We'd only had him for a little while when one morning he started licking my dad's face and purring in his ear. He woke up and heard a crackling sound outside, what he thought was just rain turned out to be a roaring fire. That soon led to fear and panic. Without this miracle we still call Diesle, we might not have woken up in time to get out of the house! And even though I'm only 11, I think destiny has strange ways of talking to us, and we should never underestimate our best friends.
Kindly Contributed By:
- Daniela