<< Back to the Tails & Tributes list
Pet Stories: Randy's Happy Ending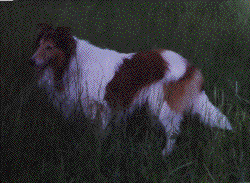 Randy was first "advertised" on the dog rescue listserv by someone who had seen him at a pet adoption day in New Hampshire. He was a nice "elderly" collie in a kill shelter and his time was running out. Local collie rescues had been notified but they were overfilled and placing an 11 year old dog is always a challenge so they had turned him away.
I already had three dogs (and three cats) and didn't need another dog. I didn't even really *want* another dog. Two of my dogs are also "elderly" and I already spend enough time worrying about every sniffle and squeak. But something about this old guy really touched me.
I called the shelter. They said they didn't have any old collies and I feared the worst. But Kari, who had once been part of Collie rescue, had also seen the message to the rescue list and it turned out she had him. I breathed much easier knowing this old guy had a home.
But things didn't go well at Kari's. One of her dogs had taken a dislike to Randy and Kari thought maybe he'd do better at my place. And so he came to live with me. According to his vet papers he once weighed 82 pounds but by the time he came to Jupiter Hollow he was much closer to 50 or 60. He was depressed (who can blame him) and his coat was dry and patchy. Shelter life hadn't agreed with him at all.
Randy was very friendly but he didn't really warm to me. He took every opportunity to go wander the neighborhood and sometimes he didn't wander back. When I'd go to fetch him he always looked at me like he expected to be hit. Also, at first he seemed to think that the brush was a weapon and I was a threat. So, every time he came when i called he got a biscuit, every time he was in the front yard after I hadn't watched him for 30 seconds he got a biscuit. Everytime he let me brush him for a minute or two he got a biscuit. He quickly grew to like being brushed and within a month he had stoppped wandering off.
He also started putting on weight (all those biscuits - plus high quality food and cod liver oil) and his coat was looking much better. Still, the days rolled by and he never really seemed part of the family. He'd been the only dog in his original home and while he wanted to get along with my dogs he didn't seem to understand how dogs play. Nor did he like having to share me for the attention he wanted.
One month turned to two and then to three and slowly, oh so slowly Randy decided maybe this wasn't such a bad life. I don't know when it happened but one day he just woke up and wasn't depressed any more. There was a bounce in his step like he was half his age, he decided the other dogs could actually be fun, and he obviously decided he was home.
I love my Randy dog. He has such a big heart and so much love to give. I often wonder why his original family gave him up, because he is a great dog. I called shelter and they just said the family didn't have a good reason at all. I know he is old, but we will all be old some day.
Taking Randy in to my home was much easier than turning my back on him would have ever been. I know he has gained from this experience - time and love; but I'm the real winner here. I'm the one who got a beautiful, healthy, loving dog to sleep at my feet and lean against me on our walks. I'm the one who is lucky enough to have all that love and trust directed straight at me. I'm the one lucky enough to have Randy.
Randy travelled gently to the Rainbow Bridge on June 29, 1998. He was loved greatly and will be missed. Go with God, dear friend.
Kindly Contributed By:
Jan Hilborn, jhilborn@zoo.uvm.edu