<< Back to the Tails & Tributes list
Saved!
"Welly come! Welly ... Weeeeelly!" Our screams were futile, too easily drowned-out by the ocean's roar. We weren't sure, but it appeared our dog was succumbing to the relentless walls of crushing water. Our champion swimmer doesn't flounder like this, could it be he was actually drowning before our eyes? Veins popping with the rush of adrenaline, we concluded he must be saved; but in the end, I wonder exactly who saved whom.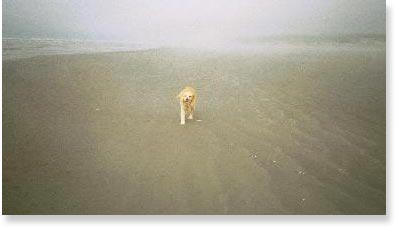 "Saved." That's the title of an entrancing painting by Sir Edwin Landseer that refines our living-room ambience. It features Milo, a glorious Newfoundland dog, cradling another hapless victim of the turbulent waters off New England's Egg Rock lighthouse. Local lore has heaped legendary status on Milo's rescues, plucking dozens of his best friends before being consumed by a watery grave. Change Milo to Welly, the location to Fort Canby State Park in Washington State, a few other details and I'm suddenly immersed in my own real life version of "Saved."
Perhaps most sinister of all was how the picturesque splendor and tranquil beauty of Beard's Hollow lulled my fiancee Cheryl and me into a false sense of security. We had been, after all, 3 hours in a hot car, so who could blame us for becoming lax as the soothing ocean breezes caressed our sun-chapped skin. Only footsteps away the frothy surf beckoned irresistibly, and so off came the sneakers and up rolled our pant-legs for a toe-wiggling stroll at the ocean's edge. Welly too, decided to get his paws wet, and that's where all the trouble started.
You see, our golden retriever is "blessed" with the swimming gene. Here's how it works: first, the paws get wet. Then, this stimulus triggers the swimming gene into producing such overwhelming impulses that the dog simply plunges into the water with reckless abandon. No matter how rough the waves; no matter how strong the rip currents; these are powerful genetic forces at work, and won't be denied.
So there he suddenly was, way out there, bobbing up and down and riding the waves as though auditioning for the sequel to Blue Crush. Having witnessed his marathon swimming stints in the Puget Sound and local lakes many times, Cheryl and I maintain a watchful yet unconcerned eye. Soon, however, mild apprehension turned to near panic, as it's now clear that Welly is disoriented and struggling for air amidst the tumbling waves.
Just as powerful as Welly's swimming gene, and capable of rendering wanton disregard for one's own safety, our protective impulses now kicked in. Cheryl, acting first, stripped down and entered her lifeguard mode while I braved a slippery, jagged rock formation. From my daunting perch I waved ferociously, bellowing "Welly Come, Welly Come!" Cheryl, already in her breaststroke, yelled too. From my vantage point I saw another fella around the cove entering the water to help Welly. The pivotal moment had arrived: a dog seemingly lost at sea and three humans about to risk life and limb so that it be saved.
Then, on the precipice of disaster, it all ended as suddenly as it had begun. Welly caught the perfect wave and rode it to shore in the most splendid "hang ten" I've ever seen. Still, the rocks beneath me presented a formidable obstacle, and I had dreadful thoughts of my golden retriever's Blue Crush dreams ending in an orange crush under my feet. Miraculously, however, he shimmied between the crags and into the arms of an adoring "mommy." We celebrated life heartily that night with a sumptuous feast, and I didn't let on that I noticed Cheryl snuck Welly the largest steak.
Now, when I look at that painting of Milo, I also see Welly, for it takes little imagination to see exactly who saved whom here. We'd have entered the water deeper and longer, so stifling was the heat, but thanks to Welly the "graveyard of the Pacific" was denied it's morbid appetite that consequential day; and now we can go on loving him and all his furry friends. Pass it on; the love, that is.
- Thanks to Noel S. Williams of Lakewood, WA, for sharing Welly's story with us.