<< Back to the Tails & Tributes list
Pet Tributes and Memorials:
Tribute to Our adored Pet Whisky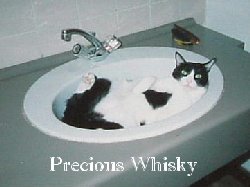 In Loving Memory of our very precious Omani cat called Whisky who died very suddenly leaving us deeply saddened. He was a very large, beautiful, intelligent, black and white Arabic cat who loved life and gave us a lot of affection in return. We cherished him for almost 13 years and loved him more than life itself, and still cannot believe that he is now in Heaven.
We miss you a lot.
Until we meet again.
Rest in Peace Beloved one.
Lots of Love.
A sad Mummy & Daddy xx
- Sent in by Anne Scott